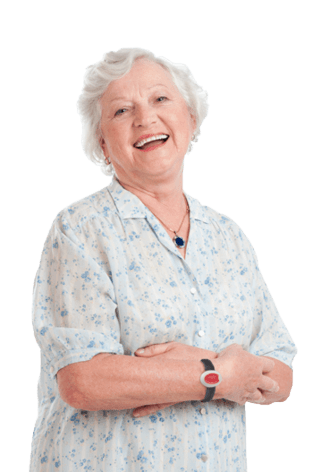 Choose Independence. Choose Telecare.
Telecare is a monitoring service that offers remote support to elderly, disabled and vulnerable people who live alone in their own homes.
At Telecare, simplicity is key. We provides users with an alarm unit, red button pendant and 24/7 monitoring from expert teams. If the user falls ill or becomes unwell, they simply press their pendant. Our monitoring centre will then ensure that the user receives the treatment or assistance that they require.
How can Telecare help?
It is often important for elderly and disabled people to remain in their own homes but this requires special measures. Telecare is a non-invasive way of keeping these people safe at home without adding carers or residential care into the mix.
Telecare allows people to retain their independence and confidence when they are at home alone.
Telecare Alarm Unit

The alarm plugs into a mains socket and a working telephone socket. The alarm unit has a powerful speaker and microphone system so that the user can communicate with the monitoring centre.

Red Button Pendant

The Telecare pendant can be worn around the neck, on the wrist or on a belt clip. It is waterproof so can be worn in the shower or whilst washing up.
Expert Monitoring

Our monitoring centre will answer alarm calls and get the customer the required help. This could be asking a nominated contact to attend or by calling the emergency services.

All at Affordable Prices

We think that everyone who needs Telecare should have access to it. That's why we offer a range of price packages to suit individual budgets.
Annie, Sunderland
I felt so much better coming out of hospital to a Telecare button. I'd had my knee replaced and was vulnerable to falls. It made me feel safer.
Dan, Cardiff
We've found that the alarm hasn't just benefited Mum's life but ours as well. We worry less knowing she can let people know if there's a problem.
Robert, Nottingham
The alarm has made a huge difference to Mum's confidence and it definitely brings me a lot of comfort.
Dr. Spratt, Worcestershire
For patients at high risk of falls, living independently at home can be a real struggle. Telecare alarms help give them that extra confidence by making sure help is always readily available.
Pricing Plans
Telecare Choice offer two simple price plans to ensure that you can get your personal alarm up and running as soon as possible.
Of course, both of our price plans come with free 24-hour delivery so that you can have your new alarm and pendant installed sooner, rather than later.
Once installed the alarm user will be covered by our 24-hour Monitoring Team. Should they need help, day or night, all they need to do is simply push the Telecare pendant and a member of the team will respond within seconds.
The Monitoring Team will then take appropriate action to ensure the user gets help - whether this is contacting a relative or the emergency services. Ensure help can gain access to the property with a Keysafe.
Yearly
Save £20
Best value long term. One annual payment
Choose this option for the best available price for your telecare alarm
Setup fee £39.00
24/7 Monitoring
1 Year Initial Term
Monthly
Low up front cost followed by monthly payments
Choose this option for the benefits of a telecare alarm with the cost spread over manageable monthly payments
Setup fee £39.00
24/7 Monitoring
3 Month Initial Term
Protecting Elderly People Across the UK
The elderly and disabled often need special measures to manage the risks associated with living alone.
This can lead to people moving into a home or residential care. We believe that this doesn't need to happen. Our Telecare Alarms assist the elderly and help them to remain safe in the comfort of their own home.
A Telecare Alarm service provides elderly people who live alone with somebody to call for help if they suffer a fall, feel unwell or need some reassurance. Simplicity is at the heart of the Telecare Alarm and our 24-hour service allows elderly people across the UK to remain confident in the comfort of their own home.
Remain independent and join the Telecare Choice community today to ensure that help is always available.
A recent breakthrough in Alzheimer's research could lead to earlier diagnosis and more effective treatment for thousands. Find out more.
READ MORE