Restless legs syndrome (RLS), also Willis-Ekbom disease, is a very common condition characterised by unpleasant sensations such as throbbing or creeping in the legs and sometimes an overwhelming urge to move them. RLS can also affect other body parts such as the arms.
What is restless legs syndrome?
As many as one in 10 people are affected by restless legs syndrome at some point in their life, with woman being twice as likely to develop the condition. RLS works on a spectrum meaning that some sufferers experience very mild symptoms whilst others are caused intolerable pain and disruption to sleep.
RLS is typically described as an uncontrollable urge to move the legs or a general unpleasant sensation. Despite its name, RLS can affect other parts of the body too including arms, chest and face. The sensations vary but are often described as tingling, burning, throbbing, pulling or creepy-crawly feelings.
80% of people with RLS also suffer from 'Periodic limb movements in sleep' which refers to a sudden twitching of the legs, arms or entire body, usually during sleep. The movements are brief and repetitive and can be severe enough to wake you and your partner.
Causes of RLS
For the majority of people, there is no cause for RLS other than genetics. Restless legs syndrome can run in families. Some evidence also points to a lack of dopamine in the body causing restless legs syndrome.
RLS can also be caused by another underlying condition such as anaemia, kidney disease or arthritis.  This is known as secondary restless legs syndrome.
Pregnancy also seems to be a trigger for RLS. Approximately one in five women will experience symptoms in the final three months of pregnancy but symptoms will often clear up shortly after the birth.
Signs you may have restless legs syndrome
? You see symptoms as you go to bed. Symptoms tend to appear when the sufferer is relaxed and can often only be relieved by getting out of bed to stretch. This can occur many times throughout the night and make it hard to sleep.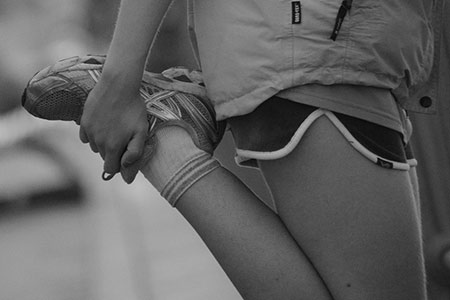 ? You feel the constant need to move your body in order to relieve symptoms. This could include pacing or constantly moving the legs whilst sitting.
? Unpleasant sensations get worse during long periods of inactivity such as car journeys or sitting in the cinema.
Symptoms of RLS differ from person to person. This can include how severe the symptoms are as well as how often they occur.
What to do now?
You should always consult your GP if you think you have Restless Legs Syndrome as there may be an underlying issue to be treated. GPs can also prescribe medication to regulate iron and dopamine levels in your body.
Mild cases of RLS that are not connected to any other illness may not require treatment and can be helped by a few simple changes in your lifestyle:
? Decrease your intake of caffeine, alcohol and nicotine.
? Take supplements to aid any deficiencies such as iron or magnesium (your GP will be able to advise you on the best supplements for you.)
? Adopt a better sleep routine by sleeping regular hours, at the same time every night, and create a sleep ritual for yourself.
? Take regular exercise during the day.
The Restless Leg Syndrome Charity and the NHS can also offer further support and advice. If you are worried about your own, or a loved one's, well-being then please take a look at our Telecare Alarm Service. 

Please note that this article was originally published on September 6, 2016 and updated on June 12, 2017.