Why Should You Choose Telecare Choice?
We take the responsibility of providing Telecare systems very seriously. From the moment you make contact with us and throughout your time with Telecare Choice, we provide the highest quality of service possible. Our staff are highly trained and will do everything they can to answer your queries and ensure that you are satisfied with the service we provide.
Telecare Choice is a national company and is not connected to any local council. It is our aim to provide the nation's elderly and disabled residents with life-saving personal alarms at the most affordable price.
We can give you independence at home, wherever you are in the UK.
We do not tie our customers into a contract. You can cancel the rental of your alarm at any point. All we ask is that you return the equipment to Telecare Choice if you decide that you no longer need an alarm.
You can transfer your alarm plan to a friend or relative if you no longer need or want it. Speak to a member of our team for more information.
Once you have made your order from Telecare Choice and have completed the set-up of your alarm, you will be covered by our 24-hour monitoring centre.
Our monitoring team work 365 days a year to ensure that you receive the highest quality of service - and to ensure that help is always there for you when you need it.
We understand that people like to spend their money in different ways, depending on their finances. That's why we give you the option of paying for your alarm on a Monthly or Annual price plan. Both plans are at an affordable price and are a great way of paying for your Telecare Choice alarm. We also have an annual GSM package which can be used if you do not have a landline.
If you order your alarm from Telecare Choice before 5pm, you will receive it the next working day. Your alarm will also be delivered for free if you select the standard next working day option. The alarm will be pre-programmed before it is sent out to you, which means that you simply need to plug it in and test it once it arrives. We like to keep costs low - there is no need for an engineer to install your alarm.
The Telecare Alarm has been developed using the latest industry technology and it is one of the simplest systems ever created. When you receive the alarm, you will need to plug the base unit into your telephone socket. Your telephone can then plug into the base unit via the telephone adapter. Finally, plug the base unit into a power socket and you are ready to test your alarm.
Once the test is complete, you are covered by the monitoring centre. If you have a fall or require assistance, day or night, then you simply press the red button on your pendant. The monitoring team will receive your call for help and will respond immediately.
By speaking with you over the loudspeaker, the team will be able to assess and react to the situation. Help will be found in the form of your emergency contacts. If you need medical attention, the team will also contact the emergency services. Your medical history, allergies and relevant prescriptions will be explained to the paramedics, so that they are in the best possible position to help once they arrive.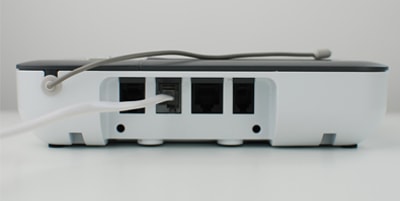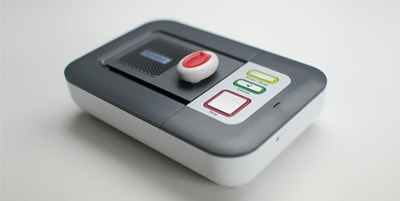 Annie, Sunderland
I felt so much better coming out of hospital to a Telecare button. I'd had my knee replaced and was vulnerable to falls. It made me feel safer.
Dan, Cardiff
We've found that the alarm hasn't just benefited Mum's life but ours as well. We worry less knowing she can let people know if there's a problem.
Robert, Nottingham
The alarm has made a huge difference to Mum's confidence and it definitely brings me a lot of comfort.
Dr. Spratt, Worcestershire
For patients at high risk of falls, living independently at home can be a real struggle. Telecare alarms help give them that extra confidence by making sure help is always readily available.
Pricing Plans
Telecare Choice offer two simple price plans to ensure that you can get your personal alarm up and running as soon as possible.
Of course, both of our price plans come with free 24-hour delivery so that you can have your new alarm and pendant installed sooner, rather than later.
Once installed the alarm user will be covered by our 24-hour Monitoring Team. Should they need help, day or night, all they need to do is simply push the Telecare pendant and a member of the team will respond within seconds.
The Monitoring Team will then take appropriate action to ensure the user gets help - whether this is contacting a relative or the emergency services. Ensure help can gain access to the property with a Keysafe.
Yearly
Save £20
Best value long term. One annual payment
Choose this option for the best available price for your telecare alarm
Setup fee £39.00
24/7 Monitoring
1 Year Initial Term
Monthly
Low up front cost followed by monthly payments
Choose this option for the benefits of a telecare alarm with the cost spread over manageable monthly payments
Setup fee £39.00
24/7 Monitoring
3 Month Initial Term
Protecting Elderly People Across the UK
The elderly and disabled often need special measures to manage the risks associated with living alone.
This can lead to people moving into a home or residential care. We believe that this doesn't need to happen. Our Telecare Alarms assist the elderly and help them to remain safe in the comfort of their own home.
A Telecare Alarm service provides elderly people who live alone with somebody to call for help if they suffer a fall, feel unwell or need some reassurance. Simplicity is at the heart of the Telecare Alarm and our 24-hour service allows elderly people across the UK to remain confident in the comfort of their own home.
Remain independent and join the Telecare Choice community today to ensure that help is always available.
In this month's news roundup, we look at Wales Univeral basic income trial, the BRITS 2021, and the lost Torlonia Marbles. Find out more here..
READ MORE