Quality
We take the responsibility of providing Telecare systems very seriously. We ensure that we provide the highest quality of service possible - from the moment you make contact with us and throughout your time with Telecare Choice. Our staff are highly-trained and will do everything they can to ensure that any queries are answered and that you are satisfied with the service we provide.
National Provider
Telecare Choice is a national company and is not connected to any local council. It is our aim to provide the nation's elderly and disabled residents with life-saving personal alarms at the most affordable price.
We can give you independence at home, wherever you are in the UK.
No Contract
We do not tie our customers into a contract. You can cancel the rental of your alarm at any point. All we ask is that you return the equipment to Telecare Choice if you decide that you no longer need an alarm.
You can transfer your alarm plan to a friend or relative if you no longer need or want it. Speak to a member of our team for more information.
Two Price Packages
We understand that people like to spend their money in different ways, depending on their finances. We give you the option of paying for your alarm on a Monthly or Annual price plan. Both plans are at an affordable price and are a great way of paying for your telecare alarm. We also have an annual GSM package which can be used if you do not have a landline.
Free Next Day Delivery
If you order your alarm from Telecare Choice before 5pm you will receive it the next working day. Your alarm will also be delivered for free if you select the standard next working day option. The alarm will be pre-programmed before it is sent out to you, which means that you simply need to plug it in and test it once it arrives. We like to keep costs low - there is no need for an engineer to install your alarm.
FIND OUT MORE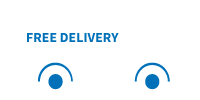 Plug & Play Alarm
The Telecare Alarm has been developed using the latest industry technology and it is one of the simplest systems ever created. When you receive the alarm, you will need to plug the base unit into your telephone socket - with your telephone then being plugged into the base unit via the telephone adapter. Plug the unit into a power socket and you are ready to test your alarm.
Once the test is complete you are covered by the monitoring centre. If you have a fall or require assistance, day or night, then you simply press the red button on your pendant. The monitoring team will receive your call for help and will respond immediately.
By speaking with you over the loudspeaker, the team will be able to assess and react to the situation. Help will be found in the form of your emergency contacts. If you need medical attention the emergency services will also be contacted. Your medical history, allergies and relevant prescriptions will be given to the paramedics, so that they are in the best possible position to help once they arrive.